The Shape of Your Ice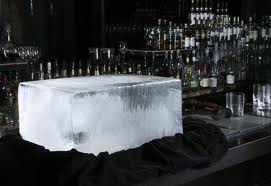 Image Credit: killingtime.com
These days, the best cocktail bars are taking their ice very seriously. The cut, size, and clarity of the ice are considered key factors in the content of a drink. Cocktail bars like Austin's (and New York's) Weather Up organize their drink menu by the shape of the ice. This post examines the increasing focus on the appearance of cocktail ice.

Image Credit: Meg Moorhouse, Weather Up
The 108 cocktails offered by Weather Up are intended to showcase the ice. In fact, founder Kathryn Weatherup believes that ice is the most important part of the drink. She relies on a Clinebell icemaker used by ice sculptors to create a 300-pound ice block of high quality. The ice is formed into specific blocks or crushed to order. The form of the ice adds a specific visual element to each of these fancy cocktails. I previously never gave much thought to the ice in my drink (except when taking it out to rub on my face during the summer in Austin). But thinking about the role of all this fancy ice, I began to consider how it might impact my drinking experience.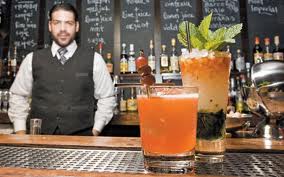 Image Credit: Dutch Kills Bar
I've since noticed that the large square chunk of ice in a bourbon drink works to ground the drink, giving it a weighty appearance. It also suggests the seriousness to the liquor, as it melts slowly as to not dilute it too soon. In contrast, the crushed ice of a mint julep-like drink is reminiscent of shaved ice and embodies a fun and lighthearted tone. Of course this crushed ice also greatly impacts the drinking experience, slowly and consistently releasing deliciously cold water into the liquor. Bars like Weather Up also feature the singular narrow and tall ice block that stays in the middle of your drink like a center pole. Featured hand-carved ice like this may make you notice the ugliness of those cloudy identical freezer squares.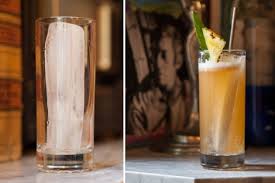 Image Credit: www.miami.com
In an interview on esquire.com, Jim Meehan, the author of The PDT Cocktail Book, emphasizes that the quality of ice is extremely important—and he even compares it to the cut of diamonds. He notes that cloudy ice is due to water impurities and air bubbles. As successful cocktail bars market the purity of their drink ingredients, and foodie establishments focus on sourcing and serving "real food," it makes sense that ice is the next frontier in fighting impurities and attempting to gain some clarity over what we consume. It's also one more visual attribute that can bring style to a cocktail in an attempt to justify its price.
To learn more about crafting your own fancy ice, see the premiere of the television program Going Deep with David Rees, "How to Make an Ice Cube."