Veggie Tales Tackles Body Diversity
For those of you who did not grow up with the unparalleled glory that is VeggieTales, I give you Bob the Tomato and Larry the Cucumber.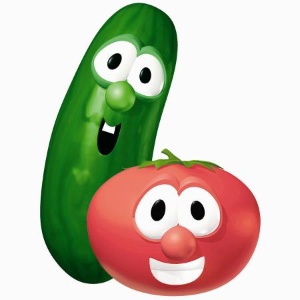 Image Credit: Big Idea, via business wire
These figures were such a staple of my childhood that I sometimes forget that they weren't as commonly watched as Disney's Cinderella or Sleeping Beauty. Big Idea, the company behind Bob and Larry, began producing these videos in 1993, to spread moral tales of Christianity through anthropomorphized vegetables. Until that point, Christian children's media had simply retold Bible tales on an archaic loop. For whatever reason, the veggie idea worked, and Tales became one of the most successful Christian franchises within only a few years. Now, Big Idea has partnerships with DreamWorks and Netflix, and has produced over fifty videos.
I do not recommend VeggieTales for the voice acting. In fact, the dulcet tones of Junior the Asparagus will probably haunt your dreams. As highly visual children's media, though, the video vegetables have clearly surpassed themselves. Each episode centers on a theme—consumerism, lying, greed, gossip, and (in the focus of this post) negative body images. The videos open with a letter or a videogram from a child viewer, usually asking a question with moral undertones. Then co-hosts Bob and Larry tell a tale meant to dramatize the moral through costumed vegetables and elaborate scenes.
In Sweetpea Beauty, the veggies take on fairy tale culture, shamelessly adapting Cinderella and Snow White—I would argue, Disney's versions of the tales in particular—to redirect body image concerns toward a focus on God. The amalgamated animation here is a veritable circus of influences. The veggies are dressed in a sort of pseudo-French style—a nod to Perrault's versions of the tale?—and the narration is inarguable Dr. Suessian. The parade of produce mimics the look of any piece of princess culture: lots of pink and purple, sparkles, amalgamated "fairy tale" costuming that obscures historicity, tiny waists (where we can see them), gaudy jewelry, and of course, crowns. The visual presentation—with the possible exception of the vegetables—tries to blend in with more mainstream girls' culture.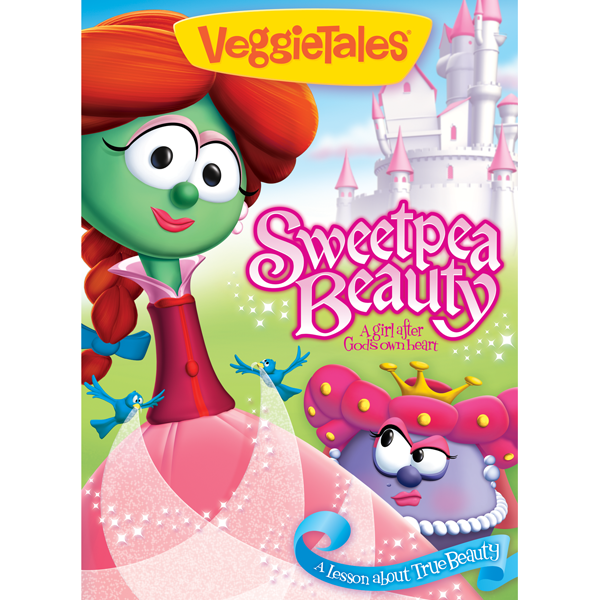 Image Credit: Veggie Tales
Big Idea even produced a collection of "Princess Stories," not unlike Disney's.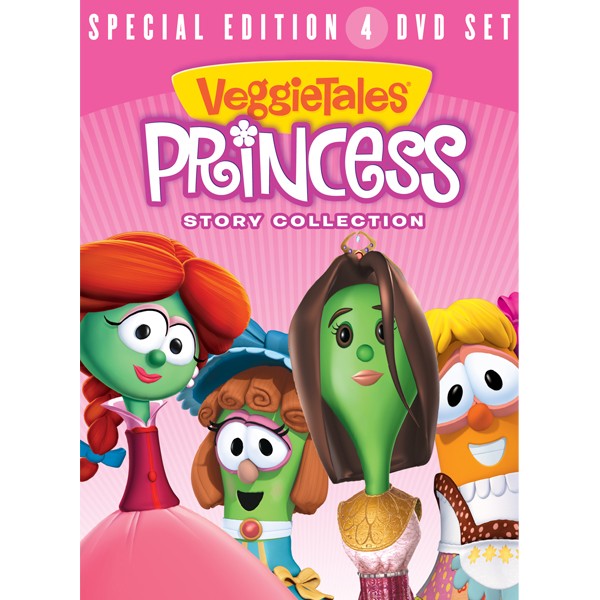 Image Credit: Veggie Tales
In fact, the religious story's aim in some way aligns with the feminist goals of mitigating the devastation of girls' body images through different kinds of media. In a rare convergence of goals, this video joins us in wanting to rid adolescent girls of ridiculous and unattainable image goals. In "Snoodlerella," for example, the squashes and asparagus parody "Cinderella" to emphasize that the mystical change of appearance enacted by a Berry Godmother is actually not essential, because the King (God) loves Snoodlerella for her internal qualities. The episode ends with no romantic reunion, and Snoodlerella continues to look like a gangly teenager.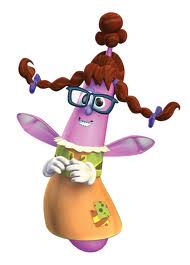 Image Credit: Wikipedia
The problem with this episode is that it cannot directly address the sexuality of the beauty industry. Prince Charming is converted to the King—a painfully obvious Dumbledorian God-figure, who echoes highly-repeated Bible verses—"You were wonderfully made," "I knew you before you were born," and so on—to quite literally dance around the topic of puberty.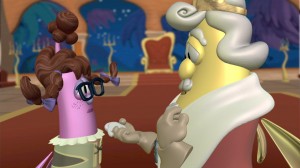 Image Credit: Sweet Posh Baby
Anthropomorphizing the vegetables, in this case, has taken the sting out of the satire. Because VeggieTales is committed Christian media, which cannot appropriately address the sexualization of girls that I mentioned in my last post, and because the vegetables themselves can be makeupped and made over but never fully made into young female bodies, these images of "awkward" vegetables who do not fit some kind of standard of beauty get lost in the other colors, shapes, and novel details. What could be a savvy take on princess culture, the Lolita Effect, or on fairy tale adaptations' presentations of female body image becomes a sanitized but empty lesson for prepubescent girls.