The Super Bowl, Visual Rhetoric, and Marshawn's Mask
Note: the following blog was slated to be published last week, but due to technical difficulties got pushed back a week. While I considered going with more topical material this week, I decided ultimately that it would be tragic if the Viz blog ignored the wonders of Left Shark, not to mention Marshawn Lynch's ironic relation to the culture of extreme fitness.
Ah, the Super Bowl. For those of us studying visual rhetoric, it's always a treat. This year alone brought issues ranging from a remarkable (and new) emphasis on fatherhood advertisements, to a traumatic short film about kids dying preventable deaths, to the on-field brawls, unforced penalties, and poor decision-making that make this perhaps the perfect recapitulation of the NFL's most shameful season in recent memory. (And that's not to mention the Halftime Show, which brought us not only the internet sensation Left Shark, but also a quite nice performance by Missy Elliott.)
There will always be a soft spot in my heart for Left Shark. He marches to the beat of his own drummer! Also, his drummer has no sense of rhythm and is possibly drunk.
Image credit: SB Nation
However, we're kicking this year off with a discussion of fitness, so one thing I kept thinking about was the fascinating spectacle of Marshawn Lynch, a.k.a. Beast Mode, a.k.a. "I'm Here So I Don't Get Fined," a.k.a. the guy any non-lunatic uses when you're on the half yard line and the game's at stake. But I wasn't necessarily thinking about his financial, social, or super-bowl newsworthiness, so much as his most iconic bit of apparel (besides the Beast-mode clothing line), the "Bane-like mask" he wears in training and just before games. I also couldn't stop thinking about our recent economic fears, and the general trend of extreme fitness.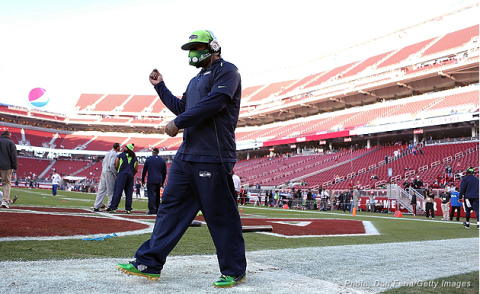 Marshawn and his mask.
Image credit: SI.com
So next week I'll try to answer a question that keeps running through my mind: could Marshawn, dressed as a sort of Jamaican Bane, be the very thing that Batman clainmed to be: not the hero we deserve but the hero we need? Stay tuned next week: same beast-time, same beast-channel.