Pets, Pain, & Pigs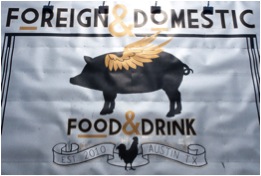 Image credit: Foreign & Domestic, by Aimee Wenske
As Deb noted in the last viz. post, recently many social media users have taken to posting photos of animals, usually puppies and kittens, as a means to demonstrate empathy in times of (both personal and public) trauma and tragedy. Animals may help us deal with our pain even in their visual form. (In person, they certainly benefit us!) I'm interested in how this use of animal visuals as an antidote to pain relates to the popular use of animal figures to sell the food we eat, such as the currently hip image of the pig.
A fascination with the pig seems to exist in hipster culture—pigs, and especially bacon, are hip.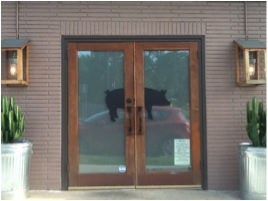 Cartoonish animal imagery, always seemingly popular in images of bbq shacks, pig roasts, and fast food chains, has become popular in the expensive, finer-dining, hipster restaurant scene in Austin. Pigs are often the featured animal (think Barley Swine, The Salty Sow, Bacon, Foreign & Domestic…).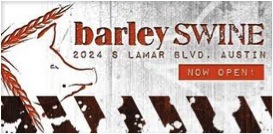 Image credit: 512foodblog.wordpress.com
While the images of cats and dogs that proliferate on the web are usually real, up close, and personal—take this one of my cat Frank—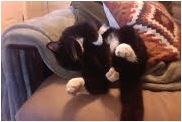 --the images of the hipster pig are often simple, childish cutouts. Eyes and fur are rarely pictured, since these might remind us too much of our furry domesticated friends. The diverse associations we make with the images of animal bodies allow us to greatly compartmentalize our empathy. The caricatured nature of these restaurant images might also de-emphasize the animal's relation to our own bodies.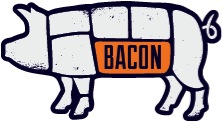 Image credit: baconaustin.com
These images at least likely distance us from empathizing with the pain of pigs, a highly intelligent animal, whose bodies are so similar to our own that they have the potential to serve as organ donors. Most diners probably do not associate the "Salty Sow" with a pregnant pig (as the term usually refers to female swine used for breeding). Yet pregnant pigs are a hot topic in animal rights discourse, as many organizations have chosen to focus on ending the gestation crate—a confining cage in which female pigs are kept their entire breeding life—and frequently use images of suffering sows in their arguments against animal cruelty.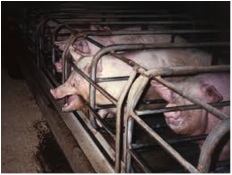 Image credit: TopsyTasty.com
Maybe the pig icon and the more animalistic terms like "swine" and "sow" proliferate because of the farm-to-table movement, and a growing desire to move closer to the source of our food. Certainly within the hipster food movement there is interest in sourcing and eating the entire animal. At Austin's hip butchery Salt & Time, a full animal carcass is often in view. The once vegan butcher, Ben Runkle, and his business partner Bryan Butler, source whole animals from farmers they trust, and thereby have great control over the quality and cuts of the meat they produce.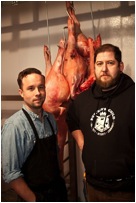 Image credit: saltandtime.com
For some, seeing the whole dead animal is disconcerting, indicating how sensitive many of us are to real butchery. Despite the inundation of visuals in our lives today, few people are exposed to images that document the production process of the food we eat. (In fact, photos and video from inside animal production sites are often banned). Our ability as a society to consume such extreme quantities of meat certainly seems due to the fact that we don't have to visualize the process of mainstream meat processing and factory farming.
While the images of pigs that we see outside of hip restaurants may seek to persuade their clientele that the food served is real and fresh from the local farm (rather than factory farmed, pesticide-filled, antibiotic-fueled, genetically modified…etc.), their simple and frequent appearance may actually discourage viewers from visualizing the live animal.